Installation
The VersaCourt DIY Difference
VersaCourt's click together latching mechanism and innovative process make installation so easy that your whole family can help.
All courts are fully assembled in our warehouse and all requested lines and logos are pre-painted by our team of professionals in a controlled environment to ensure accuracy and longevity. We then number each section, disassemble your court and pack the tiles according to your numbered diagram. This process makes your VersaCourt DIY installation a breeze.
Courts arrive at the build site on carefully packaged pallets in 4 x 4 sections that are numbered according to your custom diagram. This enclosed diagram shows each numbered section and the order in which it should be installed. Once laid out, the tile can be clicked together easily and securely due to the patented 6-point locking system.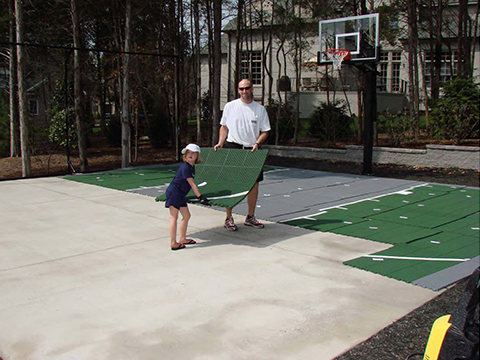 ---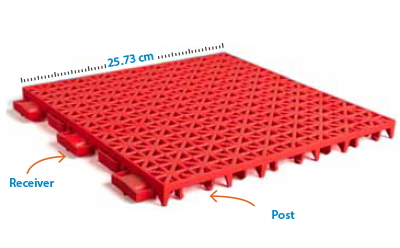 About VersaCourt Tiles
A VersaCourt game court is made up of tiles, each measuring 25,73 cm square. These tiles are connected by a simple, but precise interlocking mechanism. This picture shows the hook side and the receiver side of the tile.
Expansion
VersaCourt tile is a polypropylene plastic floor, which expands and contracts with temperature changes. A 30,48 m floor can expand 5,08 cm on both sides lengthwise when the weather warms up to 37°C (100°F). For this reason, it is important that the tile be trimmed at least 1,27 cm from any stationary object such as a goal post or fence post.
---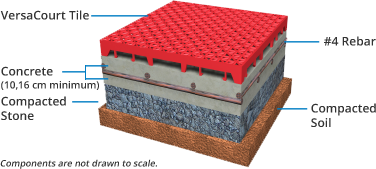 Subsurface Preparation
It is important that the surface of the substructure enables the VersaCourt to expand and contract. Asphalt, being oil based and rough, is inherently slippery and makes a very good subsurface, as well as a rough (medium broom) cement finish. If the tiles expand without being able to slide, it will start to buckle in various portions of your court.
VersaCourt can be laid over structural cracks (no wider than 1.27 cm) in the subsurface. Sharp cracks should be facetted or rounded so that the ball bounce is consistent and the tiles don't "catch" when the floor expands and contracts.