Goals & Accessories
Whether you are trying to build the backyard basketball court of your dreams or creating a family friendly, multi-sport game court, we have all of the game line options and accessories to make your dream a reality. We can even customize your court with a hand painted logo.
---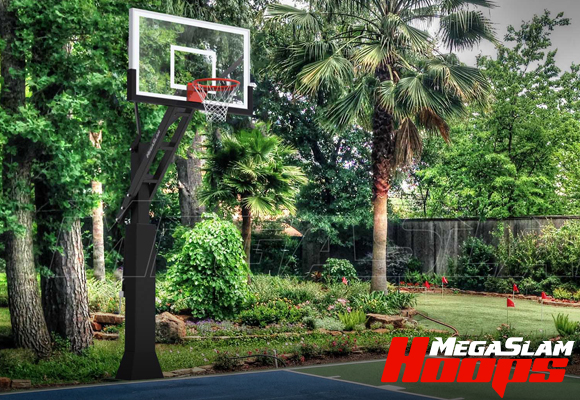 MegaSlam Basketball Goals
VersaCourt Europe is the exclusive partner of MegaSlam Hoops and their multi-tiered line of high-performance residential basketball goal systems. Each goal is manufactured by skilled welders to ensure that you and your family will be able to enjoy your new MegaSlam goal system for years to come.
Choose from two distinct MegaSlam goal systems
Adjustable goal systems featuring: 152cm and 183cm backboards
Exceptionally durable steel construction
---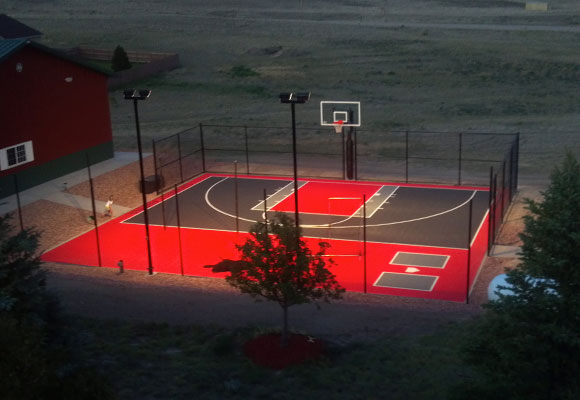 Court Lighting
Add lighting options to your court so that you can continue to play on after the sun goes down. VersaCourt offers premium, energy efficient, LED lighting systems that are comparable to (if not brighter than) typical 400-watt MH light fixtures.
Energy efficient - consumes only 37.5% of the power of similar 400 Watt MH fixtures
Slim, compact design
Weather, shock and vibration resistant
No mercury, UV, IR or other deleterious radiation
Long lifespan ~45,000 hours, 1 year warranty


---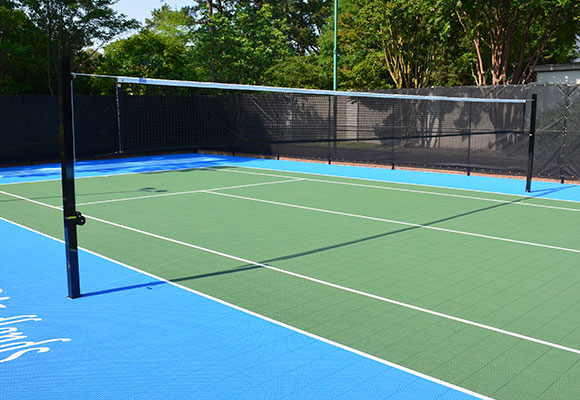 Net Systems
VersaCourt offers a wide variety of tile colors and game lines, we also offer adjustable net systems. These nets can be quickly raised or lowered so you can go from serving a volleyball to playing tennis in a matter of minutes.
Available in steel and aluminum options.
Two pole set up in multiple varieties:

Game Pole to Game Pole
Game Pole to Basketball Pole
Light Pole to Light Pole
Light Pole to Basketball Pole
Game Pole to Light Pole

Available net sizes from 56cm to 107cm, so that no matter how large your court is, we will have a net to accommodate it.


---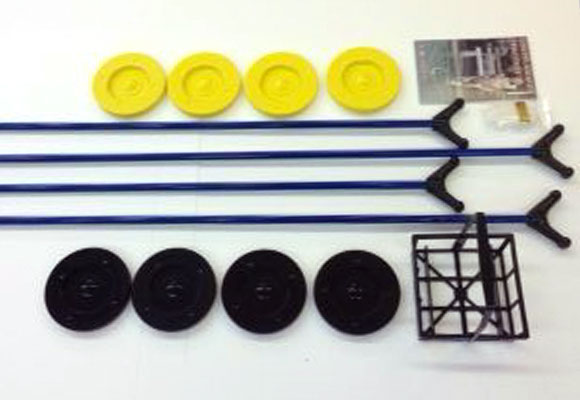 Shuffleboard Equipment
VersaCourt offers shuffleboard equipment ideal for recreation and resort use. It is suited for schools, churches and hotel use. Strong and flexible blue fiberglass shaft. One piece molded ball style head offers good control for recreational use.
Each VersaCourt shuffleboard set includes:
4 Fiberglass Cues
1 Set of Arco Tournament Discs
1 Disc Carrying Case
1 Wax Stick
1 Manual
1 Aluminum Scoreboard


---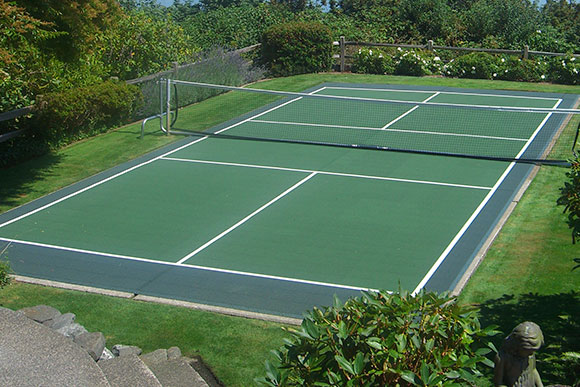 Pickleball Equipment
From pickleball paddles to net systems, we offer everything you'll need to outfit your new VersaCourt pickleball court.
Portable Pickleball Net Systems
Pickleball Paddles
Pickleballs
---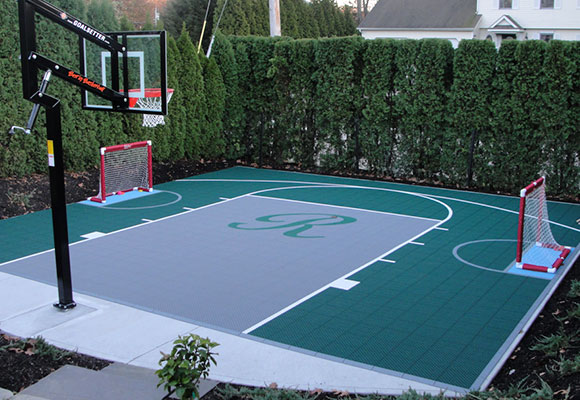 Hockey Goals
VersaCourt offers the best hockey goals in the business. These are the most authentic styled, using the most impact resistant steel and finest construction techniques anywhere, in or out of the rink. Regulation size goals feature high quality arena netting, a top shelf, center support, curved bases, skirting and other features you expect, demand, and have seen on the ice. Note the fit of the netting, the way the top shelf meets the crossbar and how the base curves out wider than the goal mouth.
100% galvanized steel goal frame - posts and crossbar
565# knotless nylon netting 4.5cm mesh, UV treated
Portability - locking steel sleeves and "Quick Cable" system allow goal to be stored six inches high in just seconds
Instant "Quick Cable" system also features no lacing on front of goal


---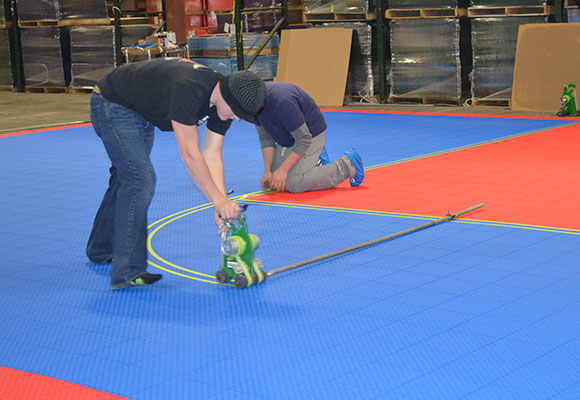 Game Line Options
VersaCourt designers can work with you to determine the placement, color and size of different line options that will work for your court. In many instances, we will use different colored lines for different games or adjust the standard sizes to get them to fit on your court.
Common line packages include:
Half Court Basketball
Full Court Basketball
Full Court Tennis
Pickleball
Volleyball
Shuffleboard
Futsal
Hockey Goal Creases
Badminton
4 Square
Handball
Field Hockey
---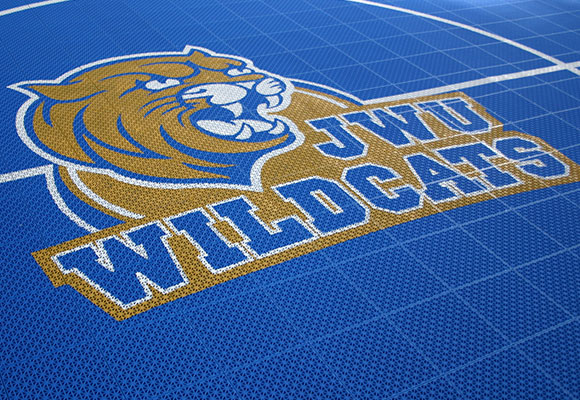 Custom Designs & Logos
VersaCourt's team of in-house designers and painters can work with you to personalize your new court with a custom painted logo or crest. From basic one-color logos to intricate, multi-colored designs, our capabilities are extensive.
Plus, all logos are pre-painted in our warehouse using proven techniques to ensure the highest quality and accuracy.
Common Examples Include:
Team Names & Mascots
Family Initials
School Crests, Names & Mascots
Facility Names & Logos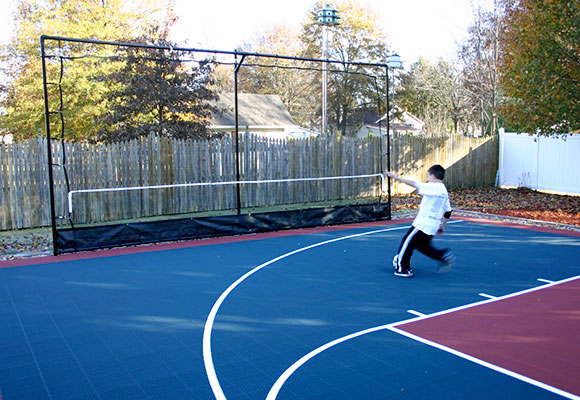 Ball Rebounder Systems
VersaCourt ball rebounder systems are multi-functional training aids for practicing tennis, soccer, hockey, lacrosse, basketball and baseball. The rebounder nets provide a realistic ball response that allows the player time to set up and react to each shot, pass or throw, allowing independent practice to hone and develop skills.
Heavy 4.8cm O.D. 16 Gauge Black Steel Powder Coated frame
Net is heavy all weather 2cm Sq Mesh #420 HTTP
Heavy Duty Long Lasting Bungee Cords
30.5cm Bottom Skirt (side skirts available upon request)
Includes all hardware and fittings


---